December 22, 2020
Darleen Johnson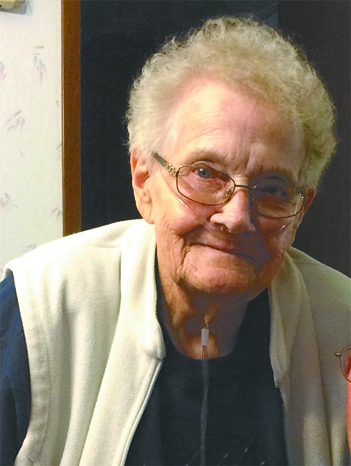 Darleen Harriett Johnson was lifted up by the arms of Angels to be with her Heavenly family on Dec. 18, 2020. She was born on Feb. 11, 1935, coming into this world minutes before her twin brother Darrell, to Harry and Alvina (Ellertson) Peterson in Karlstad, Minn. She joined an older brother Verlyn, and later her sister Elaine and brother Kenny came.
In 1953, the family moved to Tioga, N.D., and she graduated from Tioga High School in 1955. Darleen then met her soul mate Eldo Johnson whom she married on Sept. 3, 1955. To this union came sons Wayne, Kelly and Tim, and daughter Jackie. Darleen's younger years included managing four children, packing lunches and always baking goodies. In 1970, she went to work at Main Lanes Café as a waitress. In 1980, she went to work as a secretary for NL Well Service until in 1987 when she opened her own business selling oilfield clothing. She always had the coffee on along with baked goodies to go along with great conversation.
Darleen's hobbies and activities that she enjoyed were gardening, baking and a Coors Light while playing cards or dice with family and friends. She always enjoyed out-fishing anyone in the boat!
Darleen is preceded in death by her parents; her brothers, (one of which was an infant); her sister; and a grandson, Casey.
She is survived by her husband of 65 years, Eldo; sons, Wayne (Barb), Kelly, and Tim (Lori); daughter, Jackie (Robin); seven grandkids; and 14 great-grandkids.
For those attending the funeral, the family asks that everyone wear a mask and adhere to social distancing.
Memorial service for Darleen Johnson will be held Saturday, Dec. 26, 2020, at 11 a.m. at First Lutheran Church in Keene, N.D., with Pastor Robert Schmidt "Kind Eagle" officiating. Services are under the care of the Fulkerson-Stevenson Funeral Home of Watford City, N.D. Remembrances, condolences and pictures may be shared with the family at www.fulkersons.com.
---