November 1, 2022
David Jones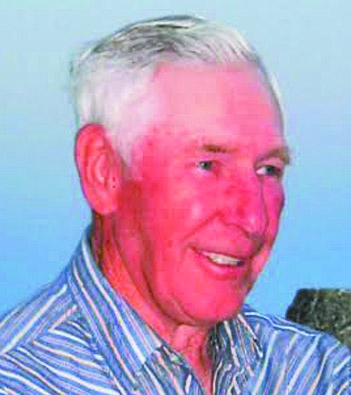 David Jones, 92, passed away Thursday, Oct. 20, 2022, at Trinity Hospital in Minot, N.D.
David was born Nov. 25, 1929, in Watford City, N.D., to Frank W. and Lillie (Sundeen) Jones. He grew up on his dad's homestead in Grail Township and remained there his whole life. In 2010, the Jones Ranch received state recognition as a North Dakota Centennial Farm. It also celebrated three generations of ownership and as of now the fourth generation has been added.
He attended country school until moving on to Watford City High School through 8th grade. He met and married Iva Norby on Sept. 15, 1951. They made their home on the family farm. During their marriage of just short of 65 years they were blessed with five children. He had a lifetime love of farming and ranching and was actively giving advice until the very end. David transitioned the cattle herd to Angus cows crossing with Hereford bulls, much to the dismay of his straight Hereford loving father.
Early in the marriage, they were involved in square dancing with the Knotheads. He was involved in starting the Faith Lutheran Church. He followed his father into the Clerk position for Grail Township. He was a charter member of the National Cattlemen's Association and a 56-year member of the North Dakota Stockmens Association. In 1982, he ran for and won a seat on McKenzie County Commission. He served on the McKenzie County School Board, Independent Farmers Oil of Keene, Farmers Union Elevator of Sanish, and the McKenzie County Fair Board. Later, he became interested in and involved with the McKenzie County Heritage Association. He donated and helped move a sandstone house that belonged to his Uncle Ike Jones to their park in Watford City.
In later years, as he became a grandfather, his focus shifted to absolute and total support of those grandkids. He loved telling stories and one favorite was that he drove 20,000 miles to sporting events. He was a great supporter, but not a vocal one! He was a lifetime hunter and fisherman and a lover of horses, all which he passed on to children and grandkids. David always had time to listen to and tell stories, even up to the end. He even had one of his nurses ask to be adopted. Just hours before he passed, he was telling jokes.
David is survived by children, Valorie (Mike) Uhlir and family, Larry, Wendy (Mike) Tyrer and family; daughter in-law, Anne Jones and family; brother, Ralph Jones; sister, Lavonne Hartel; and sister-in-law, Lillian Dahl.
He was preceded in death by infant daughter, Sandra; son, Terry; wife, Iva; his parents; two brothers; and three sisters.
There will be a public visitation for David at the Fulkerson Stevenson Funeral Home in Watford City, N.D., on Sunday, Nov. 6, 2022, from 1 to 6 p.m. and an hour prior to the service on Monday at the church. David's Funeral Service will be held at 11 a.m., Monday, Nov. 7, 2022, at the First Lutheran Church in Watford City, N.D. Pastor Garrett Gudmunsen will officiate. David will be laid to rest in Union Cemetery in rural Keene, N.D.
The Funeral Service will be broadcast, you can view David's service directly on his obituary page on the website www.fulkersons.com.
Fulkerson Stevenson Funeral Home of Watford City is assisting the family. Friends may sign the on-line register and give their condolences at www.fulkersons.com.
---