June 7, 2022
Francis Connolly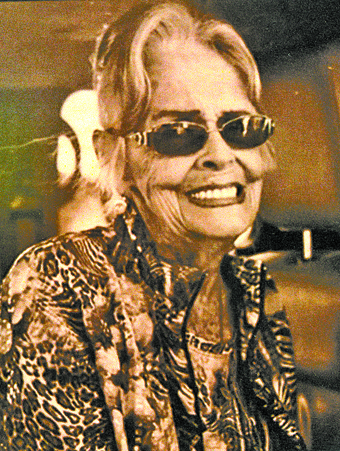 Former beloved Program Director for Home on the Range, Francis Connolly, passed away at 87.
Funeral mass for Francis, of Morriston, Fla., formerly of Beach/Keene, N.D., was held at 11:00 a.m., Wednesday, May 25, 2022 at St. John the Baptist Catholic Church in Beach, N.D. with Father Daniel Berg celebrating. Visitation and a rosary for Frankie was held an hour prior to the service at the church.
Frankie was born Feb. 10, 1935 in Memphis, Tenn. She married Leo B. "Bud" Connolly on Jan. 5, 1952.
Frankie and Bud traveled extensively in the rodeo circuit. Bud was an all-round cowboy. Together they raised 12 children. Frankie was a jewel of North Dakota and helped hundreds of children improve their lives for over 20 years. Frankie was a strong spirit-filled Christian that led her to fulfill her calling in the community. She was well known for her love for horses and dogs. She had a master's degree in psychology and minor in theology from St. Mary's. In her early years she enjoyed teaching riding, was involved in water ballet, a model, was the first woman in Florida to use the aqua lung (the precusor to scuba gear) and performed trick riding in rodeos as well as running barrels.
Frankie is survived by her children, Shireene Ducheneaux, Kathlene Zahl, Kenneth (Betty) Connolly, Brian Connolly, Mike (Pam) Connolly, Flip (Angie) Connolly, Jimmy Connolly, Stephanie (David) Langford, Kelly (Brett) Blindauer, Shawn (Jen) Connolly and Brianna Connolly; daughter-in-law, Lynn Connolly; grandchildren, Zane Ducheneaux, Marlana Zahl, Erica (Richard) Rodriguez, Franki Story, Josh Connolly, Zech Connolly, Jake Connolly, Jessica Hasaure, Crystal Ezzell, Katelynn Connolly, Kendall Connolly, Joey Connolly, Lane Connolly, Michael McCann, Isabella Blindauer, Izak Blindauer, Lydell Connolly, Danika Linseth, Emma Dillman; great-grandchildren, Eden, Thad, Dion, Rocco, Rio, Roman, Jake, Jessica, Madison, Keagan, Liam, Joey, Cree, and Grayson.
She is preceded in death by her son, Joe Connolly; grandchildren, Theresa Ducheneaux, Amanda Connolly, Robin Connolly; and half-brother, Jerry Joslin.
Remembrances and condolences may be shared with the family at stevensonfuneralhome.com
Arrangements by Stevenson Funeral Home, Dickinson.
---