September 7, 2021
Gladys Wisness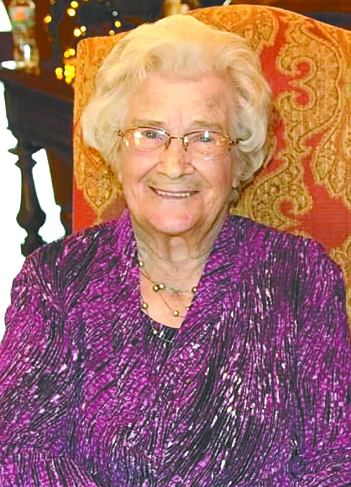 Gladys O. (Felland) Wisness, 103, of Watford City passed away on Monday, Aug. 30, 2021, at the Good Shepherd Home in Watford City, N.D. She was born on Oct. 10, 1917, in her Grandmother Felland's farmhouse in the Croff community in McKenzie County. Her parents were Oscar and Helen (Thompson) Felland. When Gladys was two years old, they moved to the Charlson area. Gladys was the oldest of seven children. Her siblings were Omar, Mildred, Victor, Charles, Doris and Delores.
They attended school in Charlson and later the Dunn School after they moved to the Riverview area. She was confirmed at the age of 13 in the Norwegian Evangelical Lutheran Church, present-day Keene First Lutheran Church. During high school she worked for her room and board and at cafes before graduating from Sanish High School in 1940. After receiving her teaching certificate she taught in country schools over the next three years before marrying the love of her life, Lester Wisness, on July 7, 1945, in Sidney, Mont. They made their home on the Wisness homestead in the Keene Community where they raised their four children, Paul, Gary, Jane, and Milo. She had a strong Christian faith and demonstrated it by teaching Sunday School, being the Sunday School Superintendent and was an active member in the Ladies Aid. She was also a life member of the Sons of Norway.
Gladys was a wonderful cook and baker and loved to share with family and friends. In her later years she enjoyed playing cards and doing jigsaw puzzles.
She was the Senior cheerleader for her grandchildren's many activities and sporting events.
In their 61 years of marriage they enjoyed traveling with friends throughout the U.S. and Canada.
Her favorite trip was to Norway in 1992. They moved to Watford City in 2002, when Lester entered the Good Shepherd Home and Gladys the Horizon where she continued to live until 2011 when she entered the Good Shepherd Home. She resided there until her passing on Aug. 30, 2021. Gladys always had time for others. Many will miss her generous, kind and loving nature. Her outlook on life was inspiring. She knew how to brighten someone's day and make them feel loved. Her Motto was "What you put into the lives of others will come back to you."
She is survived by her four children, Paul (Sandi), of Watford City, Gary of Williston, Jane (Dwight) Mangel of Prescott, Ariz., and Milo (Julie) of Keene; her grandchildren Lisa (Jeff) Kring and Lori (Jay) Abbruscato, of Lakewood, Colo., Beau (Heather) Wisness and Chase (Morgan) Wisness of Keene, Brett (Amanda) Wisness and Britnee (Tyrel) Sveet of Watford City; and 17 great-grandchildren.
She was preceded in death by her husband, Lester; her grandsons, Levi, Russel and Joshua Wisness; her parents; and all six of her siblings.
Visitation was held from 11 a.m. to 4 p.m. Friday Sept. 3, at the Fulkerson-Stevenson Funeral Home in Watford City. Funeral Services were held at 11 a.m. Saturday, Sept. 4, 2021, at First Lutheran Church in Keene, N.D., with Pastor Robert Schmidt officiating. Visitation was from 1 p.m. to 5 p.m. on Friday, Sept. 3, 2021, at the Fulkerson-Stevenson Memorial Chapel in Watford City. Interment was in the Good Hope Cemetery in Keene, N.D., under the care of the Fulkerson-Stevenson Funeral Home of Watford City, N.D. Remembrances, condolences and pictures may be shared with the family at www.fulkersons.com.
---