July 21, 2020
Graylon Roberts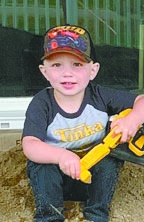 Graylon James Roberts, 2, of Watford City, N.D., passed away tragically on Monday, July 13, 2020, at McKenzie County Healthcare Center.
Graylon James Roberts was born March 28, 2018, to Cassie and Otis Roberts in Billings, Mont. Graylon was a bright spark in this world that touched the lives of so many. He attended the "tator tots" program with his mom through the Pioneer Museum/Heritage Park since he was 6 months old. Graylon loved everything his dad did. He loved heavy equipment, especially excavators and semis, and even owned his own bright yellow excavator. Graylon was deeply loved and will be deeply missed.
Graylon was preceded in death by his grandfather, James Roberts; great-grandparents, Robert Nichols, Vern (Blanche) Roberts, Don (Elvadore) Skiles and Steven Holm.
He is survived by his parents, Otis and Cassie Nichols Roberts; brothers, Drew (Kristina) Waits and Corey Roberts; sister, Shaylee Roberts; uncles, Riley (Erika) Nichols, Gavin Nichols, Don (Tamara) Trudeau, Brett (Judy) Roberts, Odell Roberts, Roman Waits and William Waits; aunts, Kayla (Anthony) Swanson and Cindy (John) Strombeck; grandparents, Rose (Floyd) Roberts and Dave (Shawn) Nichols; and great-grandparents, Shirley (Al) Felchle, Bonnie Nichols and Evelyn Holm.
Funeral services for Graylon were held Friday, July 17, 2020, at the Watford City Assembly of God Church in Watford City, with Pastors Sheldon McGorman and John Brady officiating. Fulkerson-Stevenson Funeral Home of Watford City is caring for the family. Remembrances, condolences and pictures may be shared with the family at www.fulkersons.com.
A donation fund has been set up at the First International Bank & Trust in Watford City for the Roberts Family.
---