July 14, 2020
Vernon Skari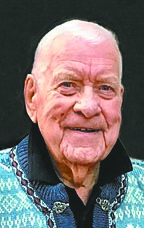 Vernon Edwin Skari was born on June 2, 1927, in Arnegard Township, N.D., with a twin sister Verna, the youngest of 10 children of Albert and Laura Skari. He grew up on a ranch/farm, riding horses, herding cattle, milking cows, plowing land and harvesting crops. He played football and earned his pilot's license at age 16. He never lost his love of western North Dakota, horses, football, his Norwegian heritage, flying and the family farm.
As a boy, he would sing while plowing the fields. A neighbor remembers enjoying his voice from a great distance. A friend remarked on his 90th birthday, "One of my fondest memories on the first legs of life's journey was sitting next to a little boy in church in the first pew...You (Vern) got up and stood so bravely and this deep voice came out of this little body. I was amazed as I still am."
Vern enlisted in the Army Air Corps and was stationed in the U.S. Occupation Army in Japan. He studied judo, earning his brown belt, and was working on his black belt when he was transferred. He was the second American to wrestle in Tokyo's Kodokan. (Judo moves proved essential later in building championship wrestling teams.) A Japanese woman noticed the cross he wore, asked him if he would read her Gideon Bible to her children, and with permission from higher command, he began meeting regularly with her children. Soon all the village children would meet him at the Army base and walk with him, Pied Piper style, to her home, joining his class. Years later, he was amazed to learn that his little Bible study had become a thriving Christian church.
He attended Concordia College in Moorhead, Minn., where he lettered in varsity football for four years and in track for three years. The just-forming Minnesota Vikings scouted him because of his stellar record, but found that he was too small for pro football. He also began singing lessons. He was the first non-music major and the first football player to have the honor of singing for his cap and gown day at Concordia, a school noted for its music. He later earned his Master of Education and History degree from Macalister College in St. Paul, Minn.
Vern taught and coached in Breckenridge, Minn., Breck School in Minneapolis, Minn., (inducted into their Hall of Fame for his coaching), then Richfield High School. He moved to Colorado when Arapahoe High School hired him to teach history, social studies and psychology, and to be head wrestling coach and assistant coach in football and track. He had outstanding success, coaching several All State teams and All American wrestlers, one of whom (Steve Suder) became head coach at the University of Wyoming. He also coached an Olympic discus thrower, Art Burns. Vern retired in September of 1992, but continued to substitute teach into his 80s.
When Vern stopped coaching, he went back to singing, performing countless concerts, wedding, funerals, and singing the National Anthem for numerous events including professional sports and the National Prayer Breakfast.
And he sang grand opera. Vern was the epitome of a dramatic Verdi baritone. He sang more than 20 opera roles including John the Baptist in Jerome Hines' opera about the life of Christ, I Am The Way, opening the opera for the Metropolitan Opera's star basso. His repertoire of classical oratorios was numerous, favorites being Hayden's Creation, Brahms' Requiem, and Mendelssohn's Elijah. Dr. Oswald C. J. Hoffman, then Speaker, The Lutheran Hour, proclaimed, "My friends, you have just heard Elijah!"
Here are excerpts from the Denver Post about his singing:
"…the outstanding voice belonged to Vernon Skari, a former Metropolitan Opera Audition finalist. He has one of the most impressive baritones we have heard in Denver."
"…does a remarkable Baron Scarpia…he carries though the image of a remorseless roué and does it magnificently. Mr. Skari is a singer ideal for Scarpia with a tremendous, unforced power."
"…essayed the character with particular gravity and impressive presence…this was a Germont to be reckoned with vocally, visually, and interpretively."
"His voice is a voice of great power, richness and sonority…in recital or in the field of operatic interpretation he projects great authority and dynamic brilliance."
Vern renewed his pilot's license later in life and bought a Cessna 172 which he flew north, south and east from Denver, Colo., never west over mountains. He also made many model airplanes and wooden airplane toys for children.
His greatest love was witnessing for his Lord and Savior Jesus Christ. He began in Japan as a young man and continued throughout his life teaching Bible studies, singing sacred concerts, visiting shut-ins with the gospel and leading many to faith. He then followed up, discipling many to maturity.
Vernon is survived by his wife of 41 years, Cynthia; his twin sister, Verna Iverson, of Williston, N.D.; his children, Patricia, of Centennial, Colo., son, David (Angela) of Highlands Ranch, Colo., son, Daniel (Meraine), and grandchildren Christian and Miriam, all of Centennial; and multiple nieces and nephews and their children and grandchildren. He was a long-time member of St. John's Lutheran Church (LCMS) and Sons of Norway.
He was a very gifted man: ambassador for the Lord, successful coach and teacher, sincere and faithful friend, powerful prayer warrior, full of stories, with an amazing voice, tremendous faith, and a profound reverence for God. We were blessed to have had him in our lives and will miss him greatly.
A memorial service to celebrate the life of Vernon is pending. He was laid to rest at Fort Logan National Cemetery in Denver. His permanent headstone proclaims, SINGING A NEW SONG TO THE LORD.
---