July 14, 2020
Lila Fee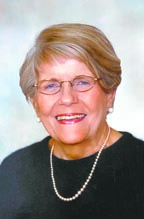 Lila Mildred Fee, 92, a shopkeeper and loving mother, died of natural causes on Saturday, June 27, 2020, at Cherry Blossom Senior Living in Columbus, Ohio.
Lila was born in Minot, N.D., on June 10, 1928. She was the only surviving child of Lyell and Mildred (Aakrann) Husby. Lila's mother and twin brother, Lyell Jr., both died during childbirth. Lila was raised in Minot by her maternal grandmother, Pernilla 'Nellie' Aakrann and her dear aunt and uncle, "Mort" and "Mugs" Aakrann.
She grew up in Minot and graduated from Minot High School in 1946. She attended Minot State College for two years where she studied nursing. Later she moved to Minneapolis, Minn., where she worked as a designer at Munsingwear in the late 1940s/early 1950s. On Sept. 18, 1954, she married Donald James Fee at St. Olaf's Church in Minneapolis. They first settled in Minot, then in 1955, moved to Williston, N.D., where Don worked at Norgaard & Hilling Contracting Company. Later, Don purchased an independent insurance agency and established Don Fee Insurance Agency. Together, Don and Lila had four children.
In 1983, she started her own business, "Elizabeth's on Broadway," selling gifts and antiques, which she operated for 23 years. She made friends everywhere she went.
In 2004, she retired and moved to Ohio to be near her daughter and grandchildren. It was a large venture leaving longtime friends, family members, and a place she happily lived for 49 years.
She loved traveling and went to Europe 14 times. Lila was interested in genealogy and extremely proud of her Norwegian heritage. One of the highlights of her life was her trip to Norway in 2006, visiting the town of Tynset and discovering her family's origins and history. Lila loved decorating, designing and painting. She enjoyed attending auctions, looking for and buying antiques. She especially liked playing Scrabble on the computer with family far away. In her late age, Lila loved nothing more than to spend time with her cat 'Mr. Bailey,' her companion for many wonderful years.
Throughout her life, Lila was involved in church activities. At the young age of three in the Cradle Roll, she became a member of the First Lutheran Church in Minot. There she was baptized, confirmed and engaged in church affairs. Later, in Williston, she became an active member of the Bethel Bible Series Teaching Class and continued her commitment to the Lutheran ministry.
Lila's family was very important to her. She was a stay-at-home mom and very proud of her four children. She and Don raised them with ardent affection; enjoying all of the events that each one brought to the family circle. She was also very involved and so proud of her 10 grandchildren and 12 great-grandchildren. Spending time with family were the most treasured moments in Lila's life.
She is survived by her sons, James (Renae) Fee, Williston and Eric Fee, Williston; daughters, Alecia (Dean) Larsen, Columbus and Elizabeth (Oliver) Dubois, London, England; 10 grandchildren and 12 great-grandchildren; dear and special relatives, Karen Lacy, Kansas City, Mo.; Kim (James) Phillips, Shawnee Mission, Kan.; Kristen (Mike) Murray, Kansas City, Kan.; Bob (Janice) James, Chapel Hill, N.C.; Curtis (Joelyn) James, Vicksburg, Miss.; and Nancy (Bob) Redman, Brighton, Colo.
She was preceded in death by her parents; twin brother; husband, Donald James Fee (1995); uncle, Morten Aakrann (1985); aunt, Margaret 'Mugs' Aakrann (2006); Marilyn 'Mimi' (Aakrann) Lacy (2006); and first cousin Maxine (Aakrann) James (1975).
A family service was held at Everson/Coughlin Funeral Home on Monday, July 13. Burial followed in Riverview Cemetery.
The family has asked that memorials in Lila's honor be made to the charity of your choice. Everson/Coughlin Funeral Home has been entrusted with services and arrangements.
Memories and condolences can be expressed at www.eversoncoughlin.com.
---