July 25, 2023
John Yielding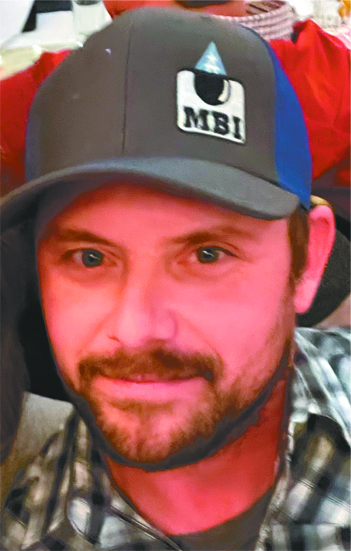 John Edward Yielding, 37, of Alexander, N.D., passed away on Wednesday, July 12, 2023. Fulkerson Stevenson Funeral Home of Watford City is assisting the family. Friends may sign the on-line register and give their condolences at www.fulkersons.com.
John was born, Sept. 25, 1985, to Daniel Eubanks and Ruth Yielding in Grosse Point, Mich. He then grew up in western Montana and was always so proud of where he came from, and nothing ever compared to being from Montana. John's smile could light up a room and make the grumpiest of people happy. His sense of humor was one of a kind and he loved to play jokes and trash talk. John was real and raw. What you saw it was you got. John was passionate about life. He loved the outdoors especially fishing…he loved the challenge of figuring out the water and where the fish were hiding. Being out on the water in his kayak was his happy place.
Once John was old enough, he enlisted in the United States Marine Corps and served a tour of duty in Iraq in 2007. While he was serving in Iraq John and Jessica met and became pen pals where they got to know each other and looked forward to meeting in person. When John got back Jessica chanced it all and flew to California to meet John in person. Who would've known they would fall in love and get married 4 short months later at a little wedding chapel in LA. The Marine Corps was something that ran deep in John's veins and he was very proud of it. It's like that quote "Once a Marine, always a Marine." He was part of a brotherhood that would always have each other's backs no matter what.
Shortly after finishing his duty in the Marine Corps John and Jessica moved to North Dakota in 2011 to start a new adventure in the oilfield. While John started off as a green hand, he worked his way up to be a mentor for new oilfield employees. He loved sharing his knowledge of the oilfield and seeing people succeed in all that they did. John had a huge heart and was always willing to give the shirt off his back for anyone. He loved anything that made him laugh and cherished all of his friends. Tho we didn't have any family out here we considered our friends in the oilfield our family.
In 2014 they finally got pregnant with their first baby and when they found out Eli was a boy, John was so excited. He always said he wanted a whole hockey team. We then had Malikai and shortly after that had Kaleb (in Jessica's car). That was a story he was so proud to tell! He loved those boys more than anything. They were his pride and joy. He loved taking them fishing, playing baseball, teaching them new hockey moves, and just spending time with them. He didn't quite get a whole hockey team but he loved the boys that he got.
John and Jessica were married 15 years and their love for each other was like non other. Regardless of what happened in their marriage they always came back together and remembered why all those years before they chose each other. God was their cornerstone and with him anything is possible. John will always have Jessica's heart here and for all eternity.
When we lose people like John, we tend to lose a part of ourselves. The only way to fill that void is by embracing those beautiful memories of him and truly understanding that he is now at peace and we will see him again one day!
John is survived by his wife, Jessica Yielding; his 3 boys, Eli, Malikai, and Kaleb Yielding; mother, Ruth Yielding; and sister, Julie Yielding.
He is preceded in death by his father; Daniel Eubanks.
A Memorial Service for John will be held on Thursday, July 27, 2023, at 11 a.m., at the Veterans Memorial Park in Watford City. Pastor Joe Pedersen will officiate.
After John's Memorial Service there will be a Luncheon held at the Civic Center in Watford City.
The Funeral Service will be broadcast, you can view John's service directly on his obituary page the website www.fulkersons.com.
---