March 8, 2023
Nathan Bixby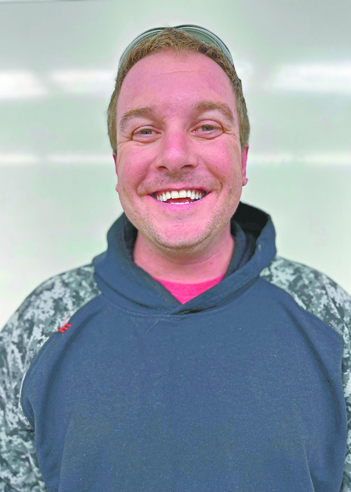 Nathan "Nate" Bixby, 35, of Watford City, N.D., passed away on Friday, Feb. 24, 2023, at McKenzie County Healthcare Systems in Watford City.
Nate was born April 14, 1987, to Peggy (O'Neill) and Norm Bixby. He spent his childhood growing up in Walker, Minn., and loved to share stories of hunting, fishing, and hanging out at his grandparents' resort. Nate attended Walker-Hackensack-Akeley High School where he graduated in 2005. Throughout his youth, he enjoyed playing ice hockey wherever he could find frozen water and eventually went on to play Jr. Gold for the Bemidji Jr. Gold. After graduation, Nate spent time living with his Uncle Mike in Kentucky and his Uncle Scott in Minnesota, eventually making his way back to Walker, Minn. This is where he met and eventually married his wife, Chelsea, during a small ceremony on June 5, 2009, at Mildred Bible Chapel in Backus, Minn.
Nate and Chelsea moved to Bemidji, Minn., where Nate took a job at Home Depot. This is where Nate's first passion for helping people began. He had many repeat customers that came back just because of how friendly and helpful he was.
While living in Bemidji, they welcomed their son, Hunter, on Dec. 29, 2009. Nate's greatest joy and proudest accomplishment was being a father. He looked forward to all the things a dad teaches his son. Recently, he was able to give Hunter his first driving lesson. "Cruising the back roads" was something Nate couldn't wait to do with his son at the wheel.
Nate took a job in the oilfields in Watford City, N.D., in 2012 and moved his wife and son out there with him. Nate excelled in every position he worked in and was promoted many times because of his strong work ethic and field knowledge. He was passionate about work; he was always the first in the field and the last out. He never hesitated to share his knowledge. Teaching and training new employees were things that brought him much satisfaction. He felt everyone deserved an opportunity to be taught, and taught well, just like when he first started out 11 years ago.
Nate had many interests outside of work, one of them being camping. He loved to be outdoors, to feel the peace of nature. Nate took his family on many camping and ice fishing trips. He could sit around a campfire or a fishing hole for hours - the only time he sat still. Another passion of his was serving on the Keene Fire Department. He was a fire fighter and EMR. His love of helping people carried through his time with the fire department. He spent lots of time volunteering with the department and especially loved giving fire truck tours at National Night Out.
Nate and Chelsea welcomed their daughter, Charlee, on Jan. 28, 2022. Charlee was their miracle baby, and Nate was proud as a peacock to show the world he had a daughter! Nate spoke often of how he wanted to show Charlee the kind of man she should marry, by spoiling and loving on her momma. That's just the kind of man he was: he made sure every day he was better than the last.
To know Nate was to love Nate. His smile was infectious. His jokes were always perfectly timed. He could lighten the mood in any room, make friends easier than most, and always had a positive twist to put on any bad situation. Nate leaves behind many cherished memories full of laughter.
You will be deeply missed, but your love will never die.
Nate is preceded in death by his aunt, Sheri Bixby.
Nate is survived by his wife, Chelsea; his children, Hunter and Charlee; his parents, Norm and Peggy Bixby; his grandparents, Bill and Marlene O'Neill and Jerry and Gloria Bixby; his sister, Jessie (Scott) Enyart; his brothers, Nolan (Samantha) Bixby and Cody (Samantha) Bixby; and many aunts, uncles, nieces, and nephews.
A Celebration of Life for Nathan "Nate" Bixby, will be held at 11 a.m., Wednesday, March 8, 2023, at the Assembly of God Church, Watford City, N.D., with Pastor John Brady officiating. Visitation was held Sunday, March 5, 2023, from Noon to 5 p.m. at the Fulkerson-Stevenson Memorial Chapel in Watford City, N.D. Fulkerson Stevenson Funeral Home of Sidney, Mont., is assisting the family. In Lieu of flowers donation may be made to the Bixby account at the Cornerstone Bank of Watford City or a charity of one's choice. Remembrances, condolences, and pictures may be shared with the family at www.fulkersons.com.
---