April 19, 2022
Noral Haugen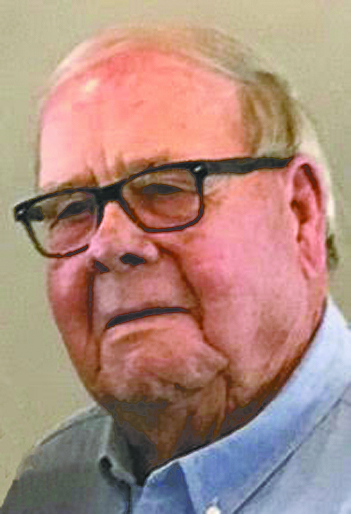 Noral Haugen, 83, of Arnegard, N.D. was called to His Lord and Savior on the evening of Monday, April 11, 2022, at Sanford Medical Center in Bismarck, surrounded by his loving family.
Noral Byron Haugen was born on July 8, 1938, to Arnold and Ruth (Lee) Haugen, in Williston, N.D.
He was the second of 4 boys. He attended school in Williston and graduated in 1956. Noral was a stand-out athlete, especially excelling in football, and received All-American honors his senior year. In his later years, his love of athletics continued as he spent many hours playing City League basketball and officiating basketball games. After graduating from high school, he attended Concordia College for one year before returning to Williston. It was then that he met his wife-to-be, Sonja Johnson. They were married on Nov. 28, 1959, in the Wilmington Lutheran Church in Arnegard. It was also during this time that he began a 30-year career with Farmers Union Central Exchange, which later became Cenex.
In Williston, Noral and Sonja lived and raised their four children, Naomi, Heidi, Philip, and Barry. Noral and Sonja resided in their home on University Avenue for 50 years. Their backyard was always filled with a few cattle and horses for the kids to enjoy, a massive garden, dogs, cats, and any other critter the kids brought home. It was in the garage of their home that Noral operated his own company, Flickertail Sports, building and distributing sports scoreboards.
Noral was a devoted father and husband. He often spoke of how lucky he felt to have lived such a beautiful and blessed life. One of his favorite things to do was to load up his kids for a camping trip or to watch them compete in rodeos and other athletic events. When he became a grandpa, life got really fun for Noral. He was always trying to attend as many athletic or school events and birthday parties as he could. His devotion to his wife was one beyond compare. Sonja suffered from dementia and Alzheimers for the last 7 years of her life and Noral was her sole care provider, keeping her home with him for all but the last six weeks of her life. It was a true testament of his strength and grit - characteristics that Noral passed on to his family.
Noral was a social butterfly and made friends with anyone he met. He would talk to anybody sharing stories about his children and grandchildren, whether they wanted to listen or not. He loved to drive around in his pick-up to see if he could find someone to visit with, and rode the brake the entire time. He was proud of his full-blooded (and sometimes stubborn) Norwegian heritage and was never quick to back down when he believed he was right.
Noral was blessed with two great loves in his life. After Sonja passed, Lois Monsen came into his life and filled the last four years with incredible joy and happiness. They were so proud to tell people that between the two of them, they had 8 children, 25 grandchildren, and 29 great-grandchildren.
Noral was a rock, and the anchor of love that always kept his family grounded during challenging times in life. He will be dearly missed and is survived by his fiancé, Lois Monsen; his three children, Heidi (Jim) Anderson, Philip (Bridget) Haugen and Barry (Stacey) Haugen; son-in-law, Roger Rossow; Lois's four children; their combined 25 grandchildren; and 29 great-grandchildren.
Noral was preceded in death by his wife, Sonja Haugen; his daughter, Naomi Rossow; and son-in-law, Eric Johnson.
A Celebration of Life will be held at 11 a.m. on Wednesday, April 20, 2022, at Wilmington Lutheran Church in Arnegard, N.D. with Pastor Garrett Gudmunsen officiating. Internment in Riverview Cemetery in Williston, N.D. will follow the funeral service and luncheon. Visitation was held on Tuesday, April 19, 2022, from 12 to 6 p.m. at Fulkerson Stevenson Funeral Home Chapel in Watford City, N.D.
Fulkerson Stevenson Funeral Home of Watford City, N.D. is assisting the family. Condolences may be left on the funeral home website at www.fulkersons.com.
The Service was live streamed. You can view Noral's service directly on his obituary page on the website www.fulkersons.com.
---