January 3, 2023
Richard Christensen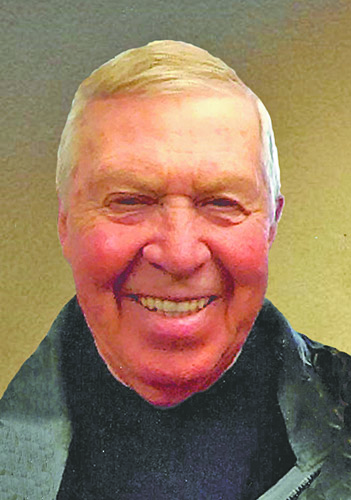 Richard (Rich) D. Christensen, 88, of Watford City, passed away peacefully on Dec. 25, 2022, at the McKenzie County Healthcare Center in Watford City N.D.
Rich was born on Nov. 6, 1934, in Watford City, N.D. to Ralph and Arlene (Boe) Christensen. He was a happy, delightful child. He graduated from Watford City High School in 1952. He went on to Dakota Business College in Fargo, N.D., for three years and then onto Minot State where he played football and worked at the Thompson-Larson Funeral Home. He decided to follow his Grandfather and Dad in the funeral business. He enrolled at the Institute of Mortuary Science in Milwaukee, Wis. He came back to Watford City and the family business. He later went to work in the oil fields.
He met his wife-to-be, Patricia (Patti) France in Sidney, Mont. They were married on May 31, 1959. They celebrated 63 years of marriage, May 31, 2022. Rich and Patti had two children, Pembra Richelle in 1962 and Richard Mark in 1967.
Rich was then employed by Texaco, Inc., and was there until retirement in January of 1993. Texaco moved them to Powell, Wyo., Casper, Wyo., Denver, Colo., and then to Midland, Texas.
Rich was a people person and belonged to many organizations including the Masons, the Lions Club, where he was district governor and was awarded the Melvin Jones Award. As district governor, he was awarded a trip for him and Patti to Osaka, Japan. He was president for the Jaycees and taught Sunday School at the First Lutheran Church for many years.
Golf was his passion. He also took classes to become a professional golf club maker. It certainly became more than a hobby. He loved to bowl, watch football and in younger years, played baseball. He coached Legion baseball and the youth groups. He even gave golf lessons to a group of ladies. Not wanting to be idle, he went to work for Empire Oil in Williston, N.D., for nine years.
Rich celebrated his 88th birthday on Nov. 5, 2022. A few days later he suffered a stroke and was hospitalized for a month-and-a-half. He passed away on Christmas Day, 2022.
He is survived by his wife, Patti; two children, Pembra and Mark; his brother, James Peter; his brother-in-law, Darwin France of Sidney, Mont.; and many nieces and nephews and many good friends and golfing buddies. Preceding him in death are his mother and father; sister, Sonja Gossin; and his young sister, Karen who passed away at age six.
Richard's Funeral Service was held at 11 a.m. on Friday, Dec. 30, 2022, at the First Lutheran Church in Watford City, N.D. Pastor Paul Balaban officiated. There was a public visitation held from 12 p.m. to 5 p.m. on Thursday, Dec. 29, 2022, at the First Lutheran Church in Watford City, N.D. He was laid to rest at the Schafer Cemetery in Watford City, N.D.
The Funeral Service was broadcasted, and can be viewed directly on his obituary page at www.fulkersons.com.
Fulkerson Stevenson Funeral Home of Watford City is assisting the family with the arrangements. Friends may sign the online guestbook and give their condolences at www.fulkersons.com.
---