August 17, 2021
Ryan Pederson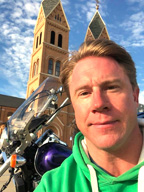 Ryan Pederson, 43, Bismarck, was welcomed home by his heavenly Father, Saturday, Aug. 7, 2021. He was born on Dec. 4, 1977, to Janice (Tandeski) and Dwain "Butch" Pederson. Ryan was born and raised in Bismarck. As a young boy, he hit the ice and proved to be an excellent hockey player. Around 11 years old, he fell in love with motocross. His passions continued to grow as he did. He attended Century High School, where he carried on playing hockey and racing.
Ryan was a family man. His daughter, Willow, was his pride and joy. If you knew Ryan, you knew all about her. He loved taking her on new adventures and creating as many memories as he could. She will always be his little pumpkin butt. Ryan also loved his nephew, Logan, like a son. They would ride motocross, body build and just had fun. Ryan loved everyone in his family in his own way.
Ryan was very active in the Watford City community through Knights of Columbus and was the President of Knights on Bikes (N.D.). He was the president, coach and head of development for the McKenzie County Hockey Club. Ryan loved being a coach and was an amazing role model to the youth. They all held a special spot in his heart.
Ryan is now with his father Dwain "Butch" Pederson.
Ryan will be greatly missed by all his family and friends and business associates. He is survived by daughter, Willow Pederson; mother, Jan Pederson; sister, Jodi Sease (nephew, Logan); brother, Mark Pederson and wife, Faye (niece, Carmen); brother, Scott Pederson and wife, Kim (nephews Shawn, Shane and niece Sarah); and many aunts, uncles and cousins.
In lieu of flowers, the family requests memorials be sent to the Ryan Pederson Benefit Account set up through Dakota Community Bank, Bismarck.
A Celebration of Life was held at 11 a.m. Friday, Aug. 13, at the VFW Sports Center Ice Rink, 1200 N. Washington St., Bismarck. Visitation was held one hour prior to the service with a rosary at 9:30 a.m. A service livestream was available on his online obituary from the funeral home's website.
To share memories of Ryan please visit www.eastgatefuneral.com.
---