October 18, 2022
Viola Homiston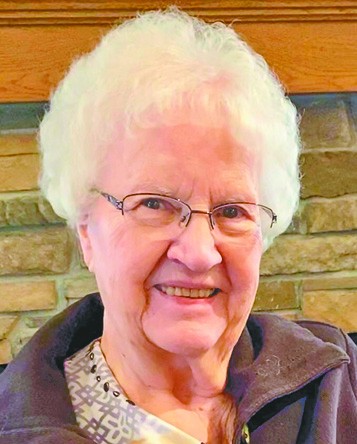 Viola "Vi" Mae Homiston, 93, of Watford City passed away on Friday, Oct. 14, 2022, at the Good Shepherd Home surrounded by her loving family.
Viola Mae Patterson was born April 2, 1929, in Buffalo S.D., to Bert and Myrtle (Thompson) Patterson. At the age of one, Vi and her family moved to Bowman, N.D. She grew up there and graduated from Bowman High School in 1947. She attended Business College in Spearfish, S.D., and later returned to Bowman to work for her dad at the Ford garage in town.
Vi met Ernie Homiston at a dance near Bowman. It was love at first sight. They were married on May 28, 1949, less than two months after meeting. They moved to Dickinson, N.D., and started their family. Mick was born in 1950. Tim was born 16 months later and Rhonda came shortly after. Vi was a very busy mom.
Because of Ernie's oil field jobs, the Homiston family moved around a lot during their early years. They lived in Ray, Tioga, Wolf Point, Glendive and Westhope. They finally settled down in Watford City in 1960, where they continued to raise their family. While in Watford City, Vi worked at Frazee's Clothing Store for many years. It was always questionable whether or not she made any money while working there because she loved buying clothes for herself and her daughter, Rhonda. Her favorite trick was to buy something and then hang it in the back of her closet. She would wait to wear it for a month or two, then, when Ernie would ask if the item was new, she could honestly say "Oh no, I've had this for a long time."
In 1970, Vi, Ernie, Rhonda, and grandson Dusty moved to Gillette, Wyo. They moved again, this time to Newcastle, Wyo., before finally settling in Arnegard, N.D. There they bought Blanche's Bar and renamed it Hommie's Bar. They ran the bar until 1978 and Ernie went back to work in the oil field. Ernie passed away in November of 1992.
After Ernie's passing, Vi moved to Bowman to be closer to her siblings. In October 2002, she married Henry (Boots) Erickson. They enjoyed three years together before Boots passed away. In 2008, Vi moved into the Horizons in Watford City and then into the Good Shepherd Home in 2015. She lived there until the day of her passing at the age of 93.
Vi loved to sing and dance. She was a fierce competitor, especially when it came to playing golf, card games, and trivial pursuit. She watched Jeopardy daily and could compete with the best of the contestants. Vi loved having her family around, especially her little grandkids. She loved to tell stories and teach them fun songs. We will miss her beautiful smile and warm heart.
Vi is survived by her sons, Mick (Gayle) Homiston of Dickinson, N.D., Tim (Jean) Homiston of Arnegard, N.D.; son-in-law, Bill Pedersen of Gillette, Wyo.; and sister, Gerri Solberg of Grand Forks. She is also survived by eight grandchildren; 16 great-grandchildren; and eight great-great-grandchildren; as well as several nieces and a nephew.
Vi was preceded in death by her husbands, Ernie Homiston and Boots Erickson; her daughter, Rhonda; her parents; one sister; and six brothers.
Funeral services for Viola "Vi" Homiston, were held at 1 p.m., Monday, Oct. 17, 2022, at the Wilmington Lutheran Church in Arnegard, N.D., Pastor Garrett Gudmunsen officiated. Vi was laid to rest next to her husband, Ernie at Schafer Cemetery in Watford City under the care of the Fulkerson-Stevenson Funeral Home of Watford City. Visitation was Sunday, Oct. 16, 2022, from 2 to 6 p.m. at Fulkerson-Stevenson Funeral Home and one hour before at the church. A prayer service was held on Sunday, Oct. 16, 2022, at 6 p.m., at Fulkerson-Stevenson Funeral Home. Remembrances, condolences and pictures may be shared with the family at www.fulkersons.com.
---