March 7, 2018
Watford girls take 8th at State Class B tourney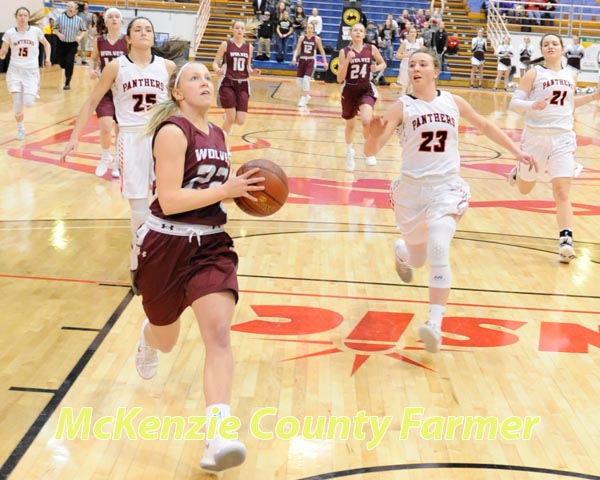 By Neal A. Shipman
Farmer Editor
An eighth place finish at the North Dakota State Class B Girls Basketball Tournament was not the way that the Wolves would have liked to end their final season of Class B basketball. But, considering that there are a lot of other teams that seldom, if ever, make it to the premiere showdown of the state's best teams, the Wolves can be proud of just getting there.
This year's appearance was the 16th time that Watford City made it to the State Class B Girls Basketball Tournament, which is the most of any other Class B school in the state. The Wolves made it to State for the first time in 1978 and then made return appearances in 1984, 1986, 1987, 1988, 1995, 1996, 1998, 2001, 2003, 2006, 2011, 2014, 2016, 2017 and in 2018.
In spite of going undefeated in the 2018 District 15 and Region 8 tournaments en route to this year's state tournament, the Wolves struggled at State as they fell to Medina-Pingree-Buchanan, 62-20, in opening round action before falling to Kindred, 63-57, in the consolation round. In the battle for seventh place, Watford City was defeated by Rugby, 64-44. Medina would go on to take third place, while Kindred would finish in sixth place.
Watford City ended its 2017-2018 season with a 15-13 record.
For the full story, subscribe to the McKenzie County Farmer
---